What do you get with our Inbound Call Center Software Services?
Anytime, Any phone
This service is a cloud-based service, it has the ability to work on any phones and can be accessed anywhere and at anytime.
Configurable Extensions

If your agent is not working from their usual place of work then all you have to do is change the agents number against the agent's extension and your customer can be connected to your agent regardless of the agent's location.
Generate reports easily

New Leads can be created in your CRGet reports and analytics of each conversation and the responses recorded by the system.M when a customer fills up the webform in your website or app.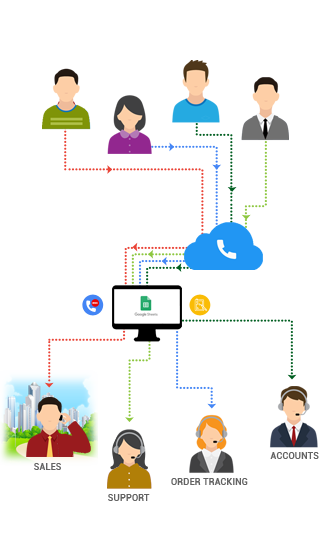 Track the performance of your agents
All the conversation between your agents and the customers get recorded for tracking and performance monitoring purposes.
Advanced Call Routing Service
Our call routing services lets your customer calls be routed to agents based on the customer's location or the customer's preferred language or based on which agent is assigned to which customer.
Backed-up by Google Sheets
The EPABX system is integrated with your Google Sheets current workflow. There's no need for yet another system!