One System, One Phone but Many Extensions – Virtual EPABX
Amazing for all businesses including the ones that provide support to customers and even better, in fact, the best for call centers!
Are you fed up with your existing EPABX system? . Are you tired of manually adding the new extension every time required by your business? Do you want incoming calls coming to your extensions recorded for business purposes? Are you fed up with all the wiring and maintenance of the Hardware for EPABX? . Does your fixed landlines limits availability of your employees when they are not on their desk?
If you are facing one or more of the above problems of conventional EPABX and you need a reliable solution, the answer is Virtual EPABX. Please read completely to understand this.
First of all let's know What is EPABX and the limitations of the conventional system?.  EPABX stands for Electronic Private Automatic Branch Exchange. This system is generally used by companies to configure multiple extensions of their staff/departments on a single boardline number.
The conventional EPABX system are generally cumbersome and involves lot of hardware &  wiring and which runs around the office premises. These systems comes with all the issues of configuration and wiring. Takes a lot of space and uses conventional landlines for extensions.
Now let's Know about Virtual EPABX: Virtual EPABX is an Alternative system developed by UMS Tech Labs which provides superior features that make up a EPABX system a Virtual Reality. That is you get all the basic system with superior features without the fuss of hardware involved, No wiring, and limitation of landline phones. Virtual EPABX system would suit all your needs perfectly!. There are many PBX systems in the market, but nothing compares with the Virtual EPABX system that works with the seamlessly simple Google Sheet.
To configure your new extensions with the Virtual EPABX system all  you have to do is enter the Extension Number and the Contact Numbers of your executives  in the Google sheet. This Contact Number can be both of a mobile phone as well as a landline number. Thus your agent or employee is assured of getting important customer calls even when they  are away from their desk.
Look at this screenshot of a Virtual EPABX Google Sheet for instance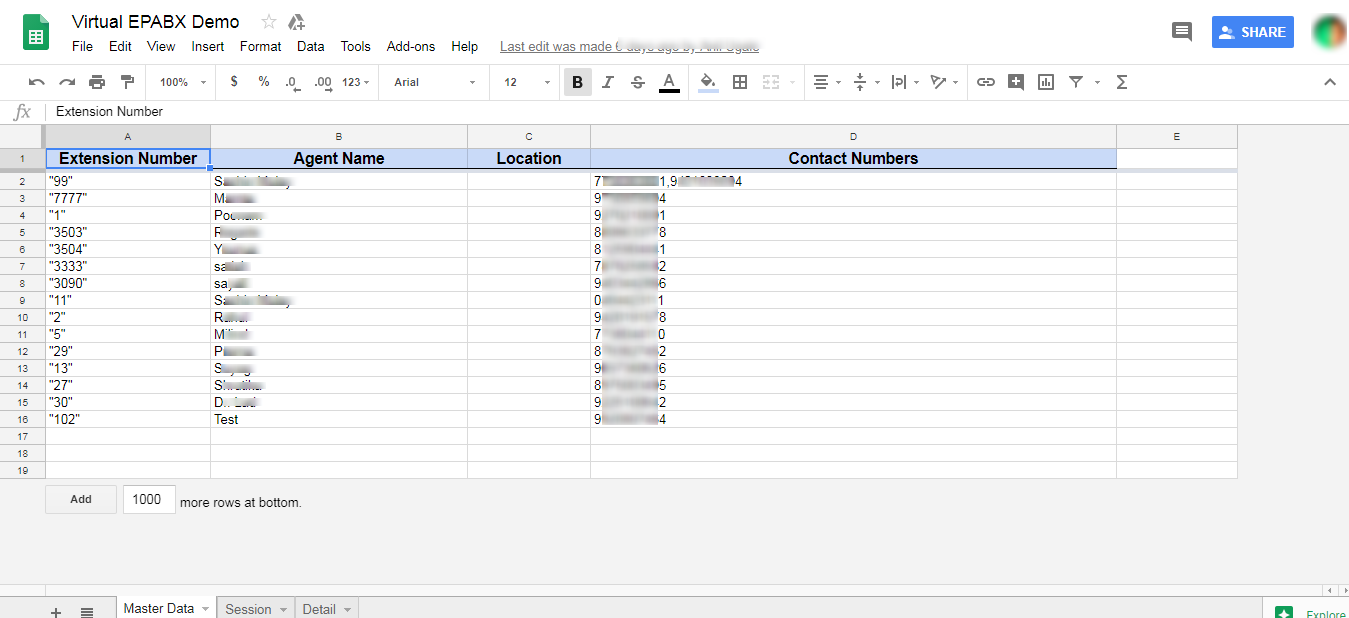 All you have to do is –
Step 1 : Enter the extension number in the "Extension Number" column
Step 2 : Enter the Contact Numbers (one or more than one) in the Contact Numbers column
Now whenever your customer calls on your customer service number along with the extension number of their choice, the customer will be connected to the corresponding executive. You can also configure Department extensions (Like Press 1 for accounts, 2 for HR, 3 for Sales etc..). You can also map more than one number to a particular extension. Like for example you can add 10 different mobile or landline numbers of your executives working in accounts department.In case one executive is busy or not available, the customer will be connected to the next corresponding contact number so you always have a back up and you customer is never disappointed. To know more about each conversation session, you can check out the "Detail" tab. All the Call logs including Call recording will be available for future analysis and training purposes.
The most amazing thing about our Virtual EPABX is, if an executive is out of office,  the customer will still get connected to the executive on his mobile number.
In short, this Virtual EPABX gives you the following advantages that will help you make your business communications run smoothly :
Location of your executive doesn't matter

No hardware & Wiring required. Just a virtual number

All executive data and call logs stored in one Google Sheet for training purpose and future analysis.

High availability of agents  over extension More than one executives available on one extension

Easily configurable. Can add or delete extensions easily.

Reliable and zero down time

Data stored on cloud and can be accessible from anywhere

Zero Maintenance.

Highest Security.

More office space.
To get a pricing for this system, please visit Pricing Calculator to design your Virtual EPABX system.
Contact us today for your Virtual EPABX System.