User Guide for BNI Launch and Support System
Introduction
Business Network International is an American franchised networking organization with around 227,000 members in 8,211 local chapters worldwide. Members meet weekly to discuss business and support each other's businesses by sharing referrals. This system was made along with a chapter that got launched & is running successfully. Hence, the system takes care of the best practices & tips & tricks by default.
This system covers everything right from member attendance for meeting, sending reminders and gathering confirmations before the weekly meeting, launch and workshops to managing guests and substitute visitors.
Launch System
Launch system maintains record of visitors for every member. Here, all the members of the group will be given a common link through which they have to make their own copy of visitor list using their google accounts and share the copy with the leadership head.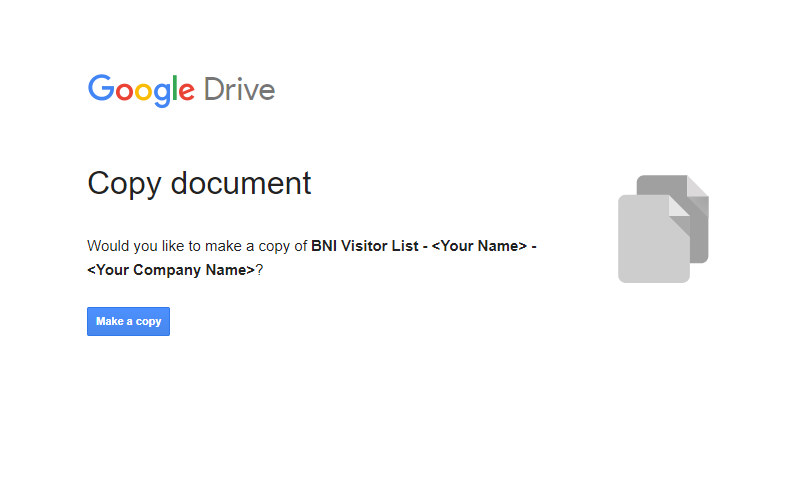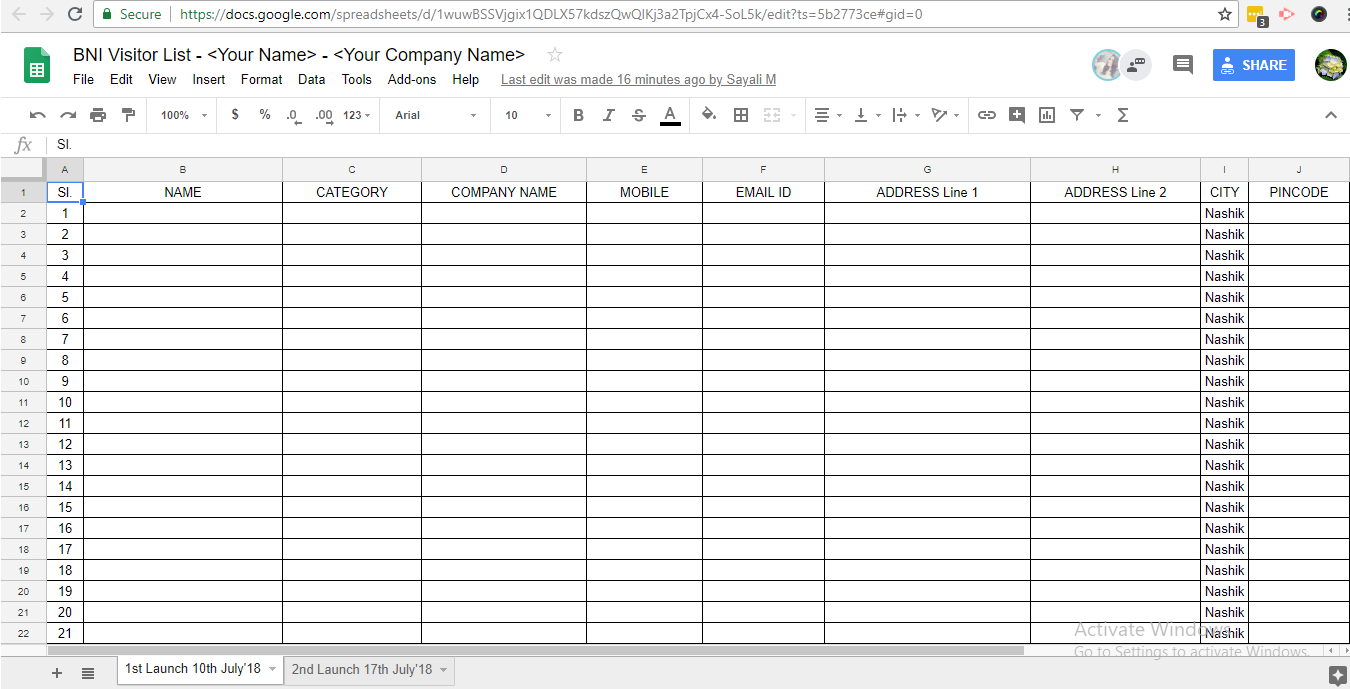 Note:
Members should write their name in "-<Your name>-<company name>" section as written in the Members master sheet only.

The Format of the sheet should be kept same.

Once they have created visitor sheet, they can use

 

https://drive.google.com

link to access their already created sheet.
Once all members have made their copy of visitor list ,they will have to enter visitor details like their visitor's name, their company name, address, status etc in their sheet.
If members are unaware of their visitor's details like their address, company name etc they can use "Bulk WhatsApp Message" feature. For using this feature , you can go to "UMS options" menu and click on "Send WhatsApp Message". Now all the blank fields in "Message Sent" column will be automatically marked as "sent" which indicate your WhatsApp is send to that visitor.                                                                                                      

Below is the WhatsApp message which would be sent to the visitors                                                                                              

 

Alert WhatsApp/SMSes helps to keep track of all the members and their visitors.For the launch,

 Scoreboard WhatsApp/SMS for visitor's count  are generated at regular intervals to know which member has entered how many visitors in their copy in real time. It gives count of visitors for launch 1 as well as launch 2 for each member. Through this, core team can see the progress of members.                                                                                           

A real time informative WhatsApp/SMS is sent to the core team which gives information about all the members who have completed their visitor list. 

A

motivational WhatsApp/SMS

is sent to all the members who have less than 20 visitor list entry in their sheet.

For sending launch invitation letters to visitors , an

address count WhatsApp/SMS is maintained for each member which gives count of all visitors who have address entered in their record in both the sheet i.e.for  launch 1 and launch 2.                                                                                                                                                                                

Once status of visitors are known to the members, they have to select the appropriate option for each visitor so that it is easy for the core group team to know the total count of visitors who are going to attend the launch. A

Confirm count WhatsApp/SMS

is sent to the core group which gives total count of all visitors for all members who have confirmed to attend the launch.It helps Regional Director to keep a track of the total count and know exactly how many visitors are being invited. 

Similar to confirmed count, visitor's blank status count is calculated.                               

 Selecting one of the options is necessary from confirmed, not attending or decision pending. This Blank count  WhatsApp/SMS gives information of all the members who have kept their visitor's status blank.                               

One day prior to launch all the confirmed visitors will get an reminder call giving information about the  launch through "

Bulk IVR call

" and "Bulk WhatsApp/SMS" feature.
Support System
Support System helps core group and leadership team to keep record of all the members in their chapter. It helps to record attendance of each member on weekly basis and keeps records for same in form of PDF. Also, this system maintains record of their substitute and guests as well.
Add/Update Member:


For adding a new member in the sheet you will have to:

Add member's name and his/her phone number in the "Member Master" sheet.                                       

Go to the "UMS option" menu and click on "Update Member".

                                                                   
Allow all the access when asked. Once all the process is done you will get an popup message "Updated Successfully"                                                                                                                                                  

Substitute and guest registration:
         BNI Substitute registration form: BNI is very strict in case of attendance and does not allow its members to remain               absent for more than three times. However, if a member wishes, he/she can send someone as a substitute on his/her               behalf to attend the meeting or event. If a member wishes to do so, he/she has to fill up the substitute form before the           meet.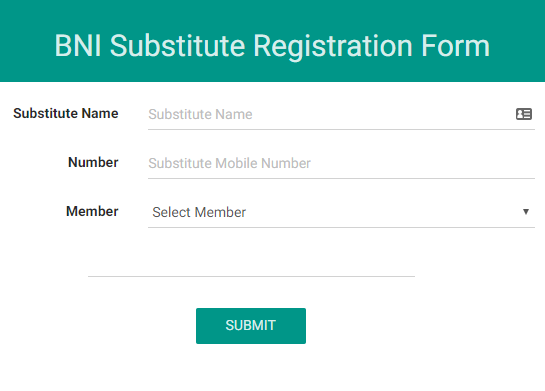 Substitute's name and his/her phone number is maintained in the same sheet as that of members i.e. "Member master" sheet. Substitute can confirm attendance on behalf of the member, just by giving a missed call on the event day.
BNI Guest registration form:
The members invite guests for their regular chapter meets . Before coming for any BNI meet, the Guest registration form is to be filled by the member inviting the guest.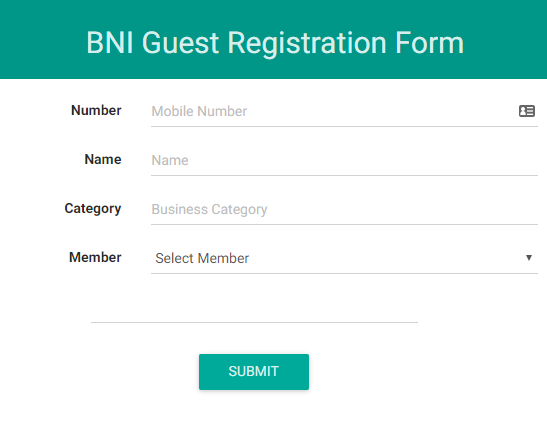 Confirmation missed call:


Until one day prior to meet member/ substitute and guests have to give a missed call on provided virtual number to confirm their presence. Once they have confirmed their presence then an WhatsApp/SMS is triggered from the system itself informing they have successfully marked their presence.                                                                                                         
The total count of all the members and guests who have confirmed their presence is automatically calculated and WhatsApp/SMS is sent to the core group for making the venue arrangements accordingly.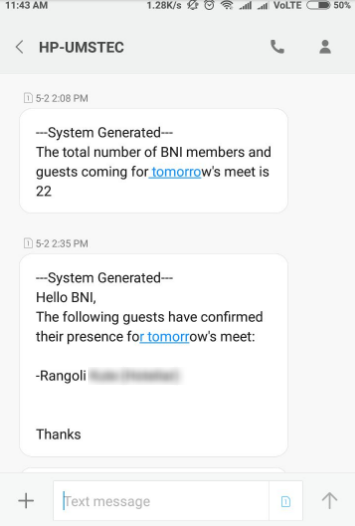 The members who haven't confirmed their presence will automatically get a system generated reminder WhatsApp/SMS to confirm their presence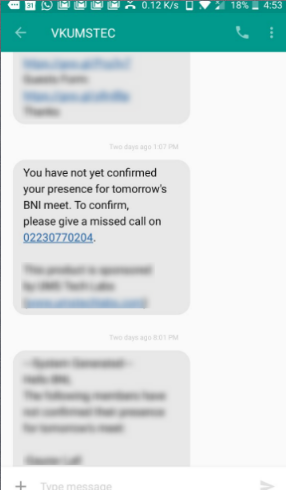 On the meet day all the present members have to mark their attendance through their registered number by giving a missed call on the provided virtual number.Alternatively,at the meeting venue the members can even scan a QR code and mark their attendance through their android phones which will again be stored in the Google Sheet. A WhatsApp/SMS is then sent to the member informing that they have successfully marked their attendance.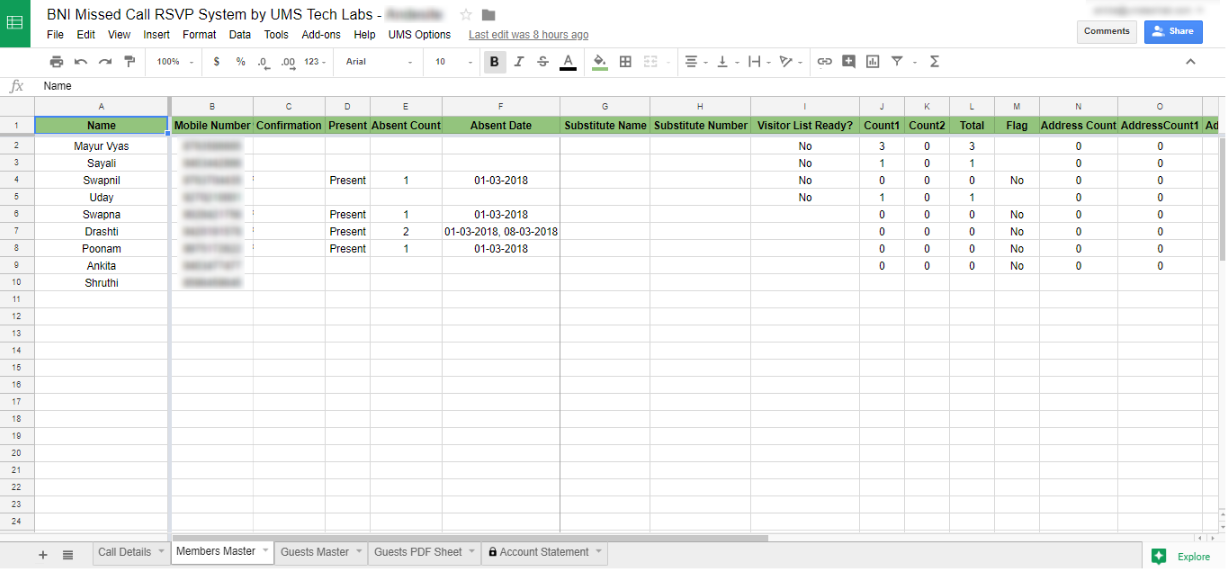 When a substitute give missed call on the provided  virtual number then the attendance is marked for that member who has registered for that substitute.
The members who haven't called will be automatically marked as absent through the system itself. Absent date and absent count is maintained for all the members. A message is generated and sent from the system giving names of all the members who were absent.                                                                                                                                                                               
Maintaining member's details:

Call Details Sheet:                                                                                                                                                   

The BNI members mark their attendance through missed calls and the call details are stored in the sheet for a record purpose.                                                                                                                                                               

Members Master sheet:                                                                                                                                     

Member master sheet contains name of all the member, their mobile number, confirmation status, their present status, absent count, absent date, substitute name and number which they have entered in during substitute registration.

It also gives information about the visitor list like whether the visitor list of following member is ready or not, it gives count of visitors entered in both sheet i.e. launch 1 and launch 2, address count for sending launch invitation letters, confirmed status to know the count of visitors who are likely to attend the launch, blank count status and also spreadsheet id of members  visitor's list.                                                                                                    
Guest Master sheet:Guests record are maintained in " Guest Master Sheet". It  contains the details of all the guests who visit the BNI chapters like  Guest's name, mobile number, occupation category, confirmation status about their attendance for the event and the member name who invited them to the event.                                      
Maintaining record of attendance through PDF:
Weekly record of all the members/substitute as well as guests is maintained. The Regional director can track member's attendance as and when required.Member/Substitute attendance PDF:In Member/Substitute PDF all details of present as well as absent members is maintained for posterity purposes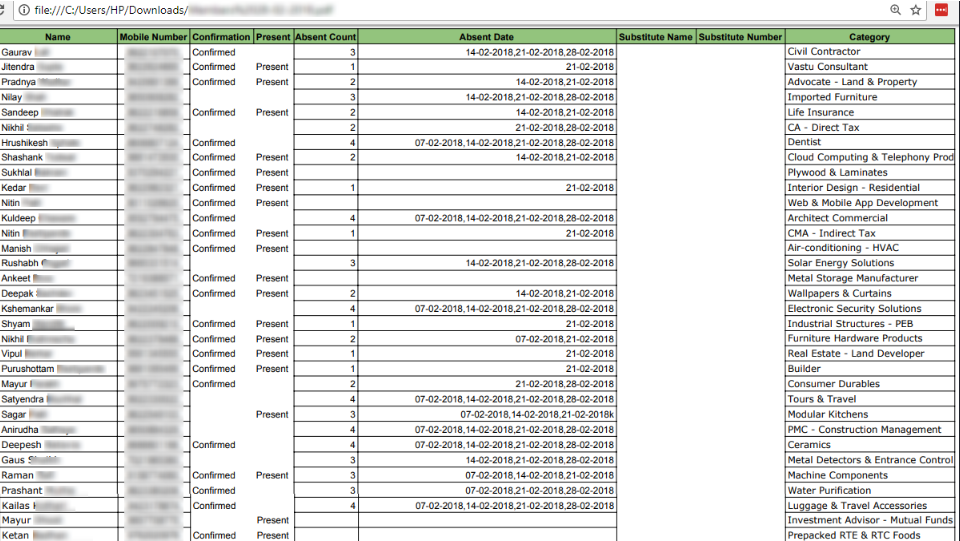 Guest PDF Sheet:
The details of the guests of the recent event are stored in the Guest PDF sheet, a PDF file is generated of the sheet and then the contents of the sheet are cleared. This is useful in keeping the records of the guests who attended a particular event and planning future events likewise.
There are various workshops arranged in BNI Group. When these workshops are scheduled, the members are required to register themselves before coming to attend the workshop. The members need to fill out the form as the one below.