We have a Simple Pay for Solution Pricing model where in you pay only for the requirement you have and not a penny Extra. With our principal values of clear and transparent Deals we have introduced a feature called Pricing Calculator. Continue to read if you want to know how to use it and take maximum advantage of the same. If you have any doubts even after reading this blog, please reach out to us on Contact Us.
How to use the Pricing Calculator?
Design your own business communication with our Pricing Calculator. Here you can select each step in your flow, make a package out of it and pay on for that much. Truely a 'pay only for what you want' model.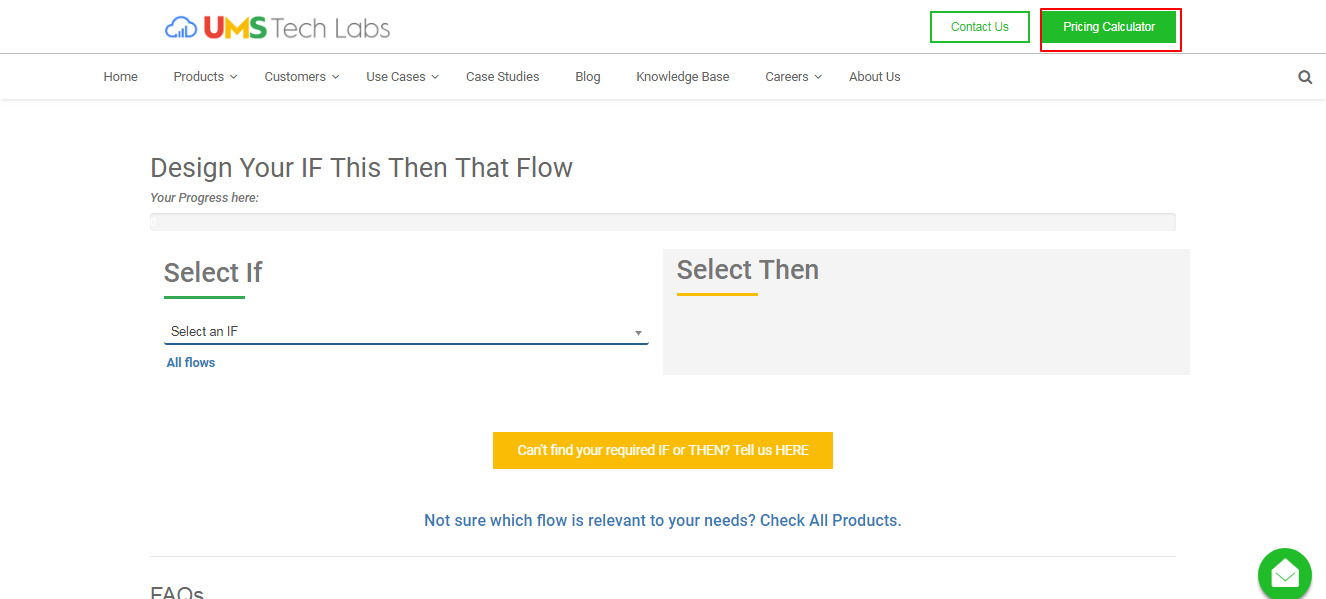 The Pricing Calculator is based on the concept of IF THIS THEN THAT (IFTTT), where IF is your primary need or requirement followed by THEN describing the consequent parts of your requirement.
Consider a Call Center Use Case for instance where when a customer calls the Call Center, a list of extensions may be played to them followed by the customer pressing the extension on their phone's dial pad and then the customer is connected to the respective agent corresponding to the extension entered. We have broken down this use case to fit in IFTTT like this – IF "Inbound IVR Call from Customer for Multiple Agent Extensions" THEN
Capture Call Logs in Google Sheet

Play options of multiple level extensions

Connect the customer to the assigned agent
We have built our Pricing Calculator around this IFTTT model. You can see two sections on the Pricing Calculator page- the 'Select IF' section and the 'Select THEN' section.
How to use the SELECT IF section?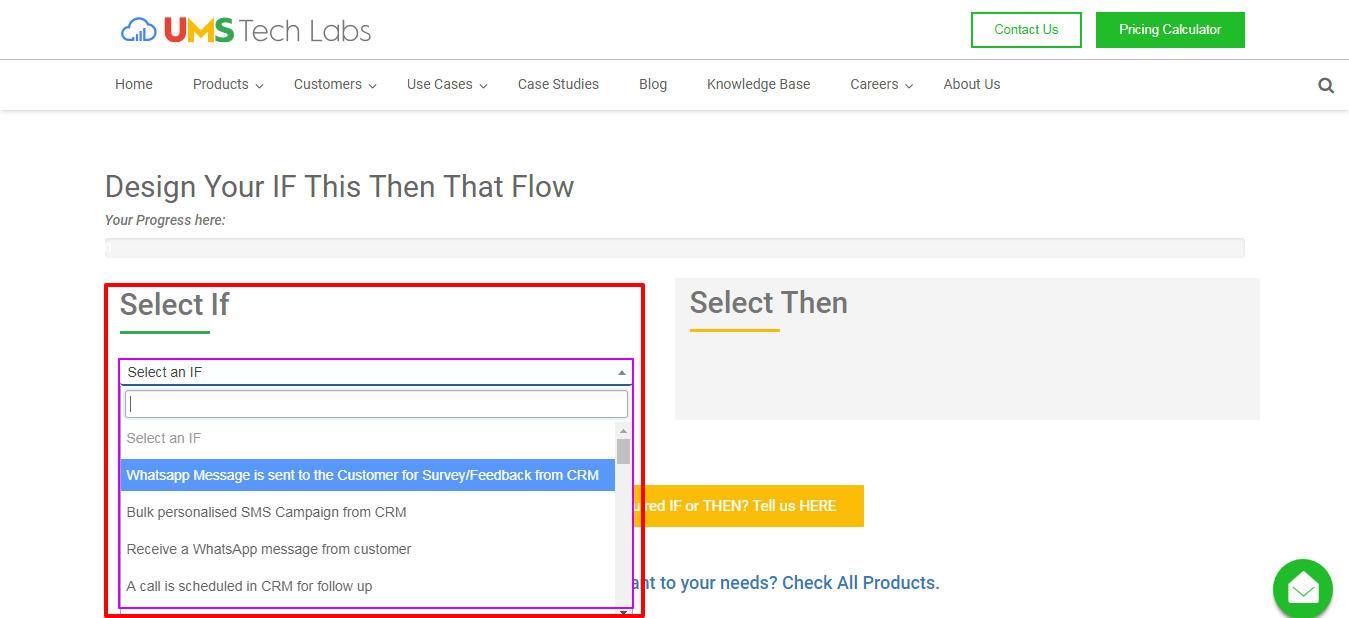 From a list of IF's in the dropdown, select the IF that best describes your requirement. At this moment the progress bar advances to 50%. Half work done! After you have selected an IF, all the related THEN get listed in 'Select THEN' section.
If you have been redirected to the Pricing Calculator from one of our product pages' 'Buy Now' button, you will see only those IF's that are related to that product. If you want to explore the other IF's too, you can click on the 'All Flows' link.
Do you have a requirement which we do not address yet? Dont worry! We would be glad to listen to you. Just click on the 'Can't find your required IF or THEN? Tell us HERE' button and fill out a simple form describing your requirements. We will contact you as soon as possible.
Complete the flow in the SELECT THEN section
After you select an IF (which is the starting point of your flow), select the THENs that you think are describe your requirements the best. Some THENs may already be checked for you.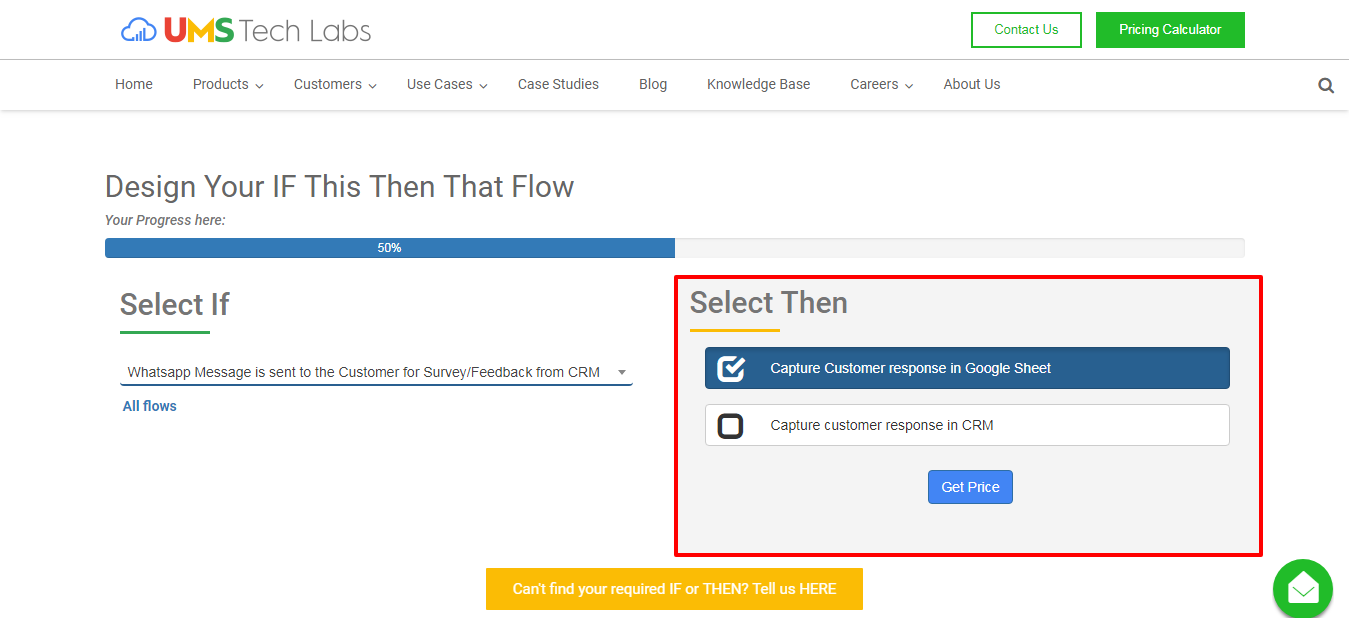 You may notice that when you check a THEN, a pop-up appears asking for additional requirements, such as what CRM you use or what call or SMS package you need. Since you may need these additional features, select them accordingly.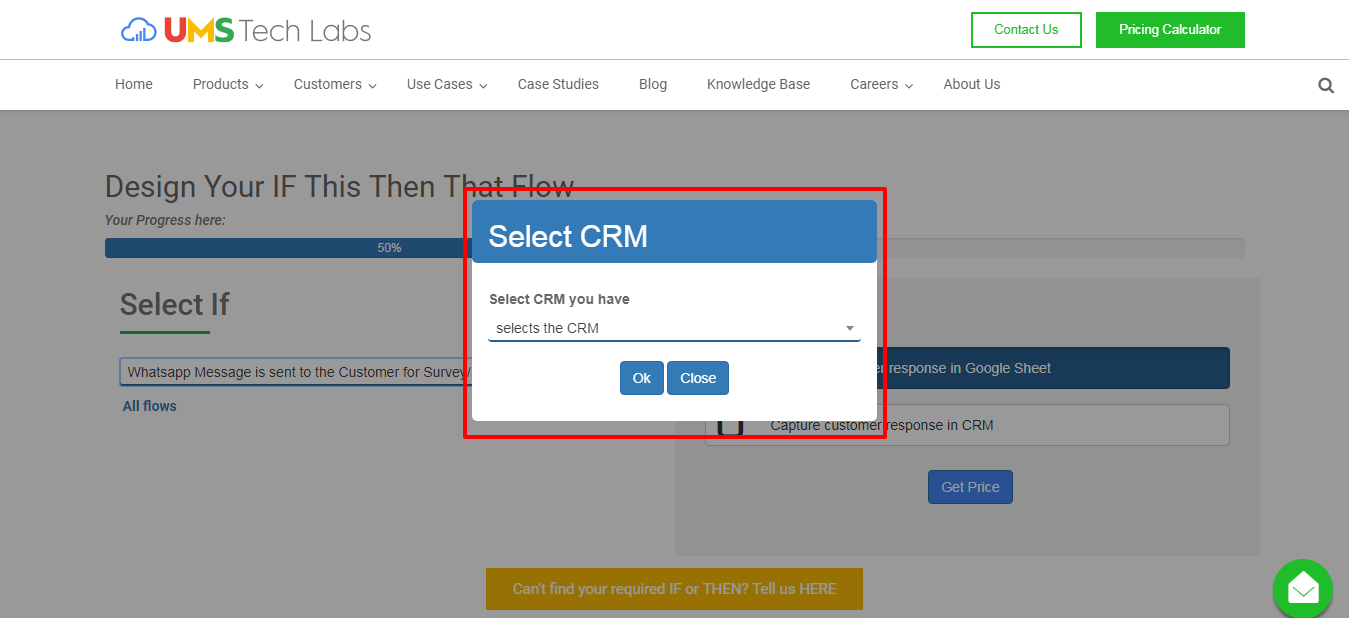 All your additional requirements will appear on the screen, on the left.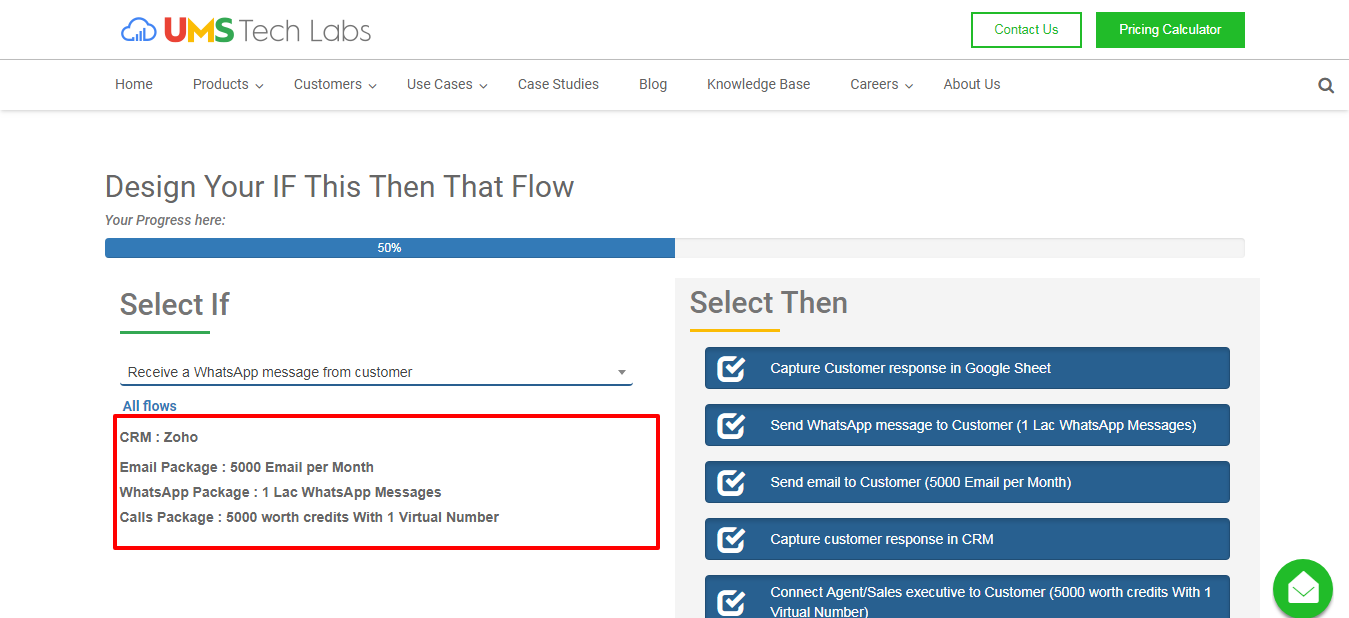 Finishing Line
So you just designed your own flow and that is only what you'll pay for. To see the price of the flow, simply click the 'Get Price' button. At this point, the progress bar shows a 100%. A pop-up asking for your name and contact number will appear, that will get us know you better. You may skip it.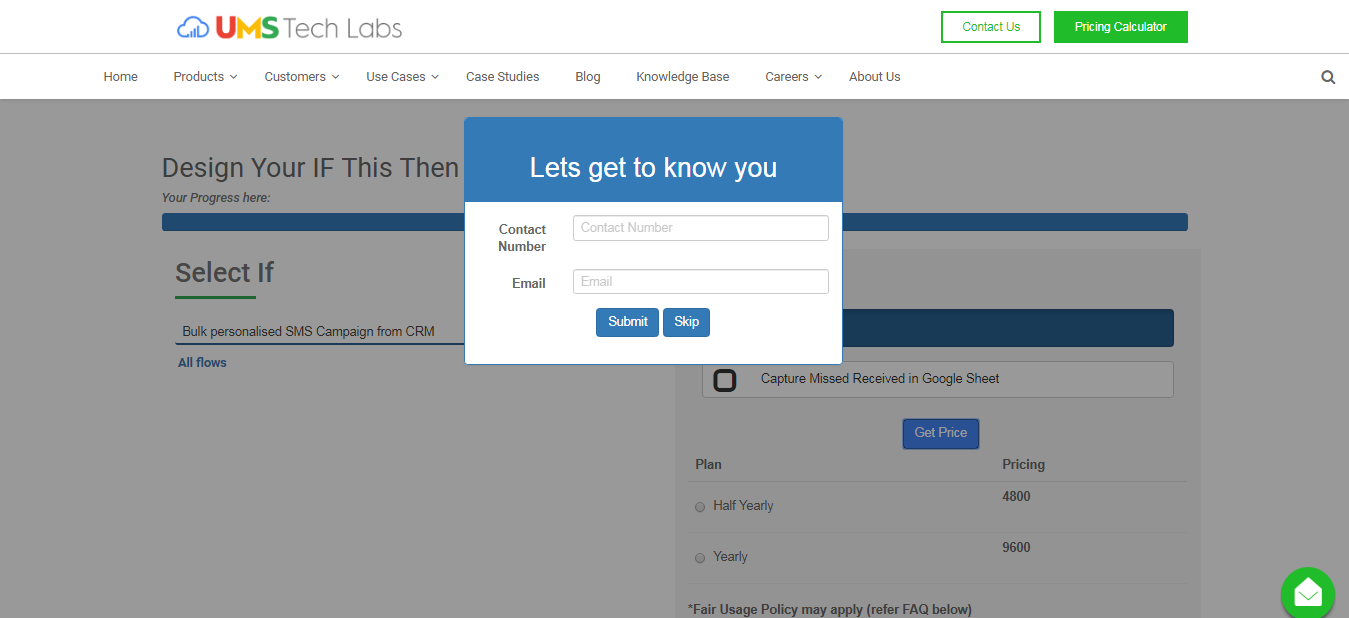 You shall now see two packages, half-yearly and yearly. Click on what suits you the best.
You can then immediately buy your flow or click on ' Buy After Speaking to our Sales Team' button and fill out a simple form by filling your details and hit send after which our Sales team will contact you.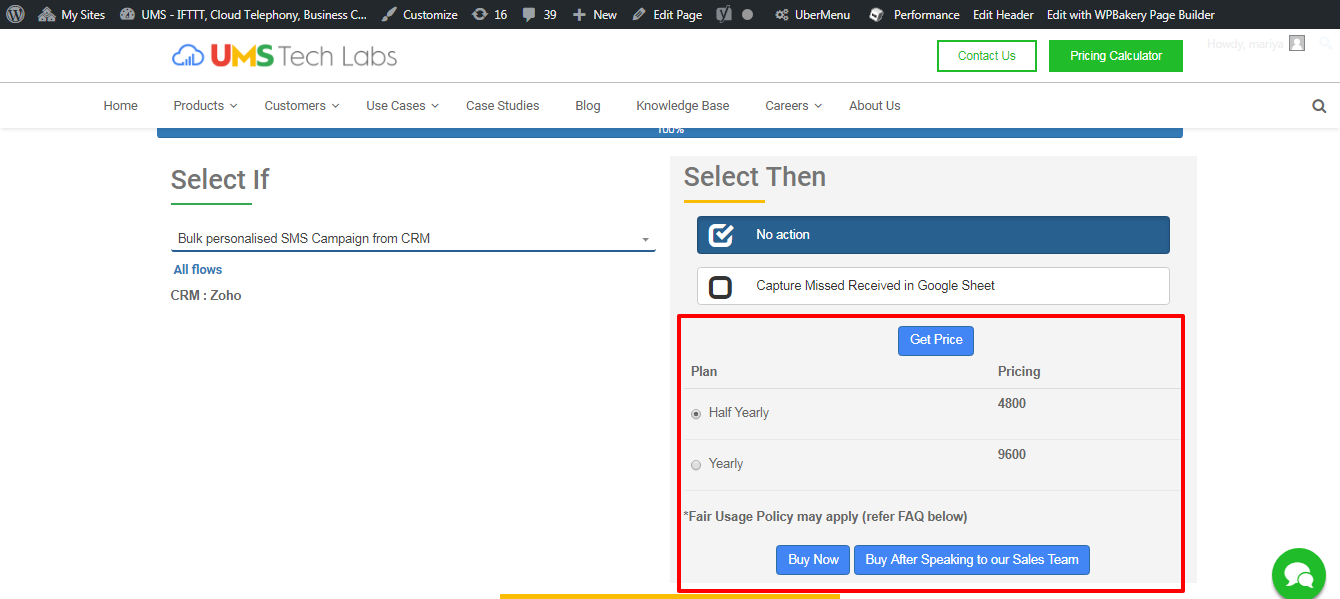 You may also read the FAQs given at the end of the page for further insights about IFTTT and how we work around it.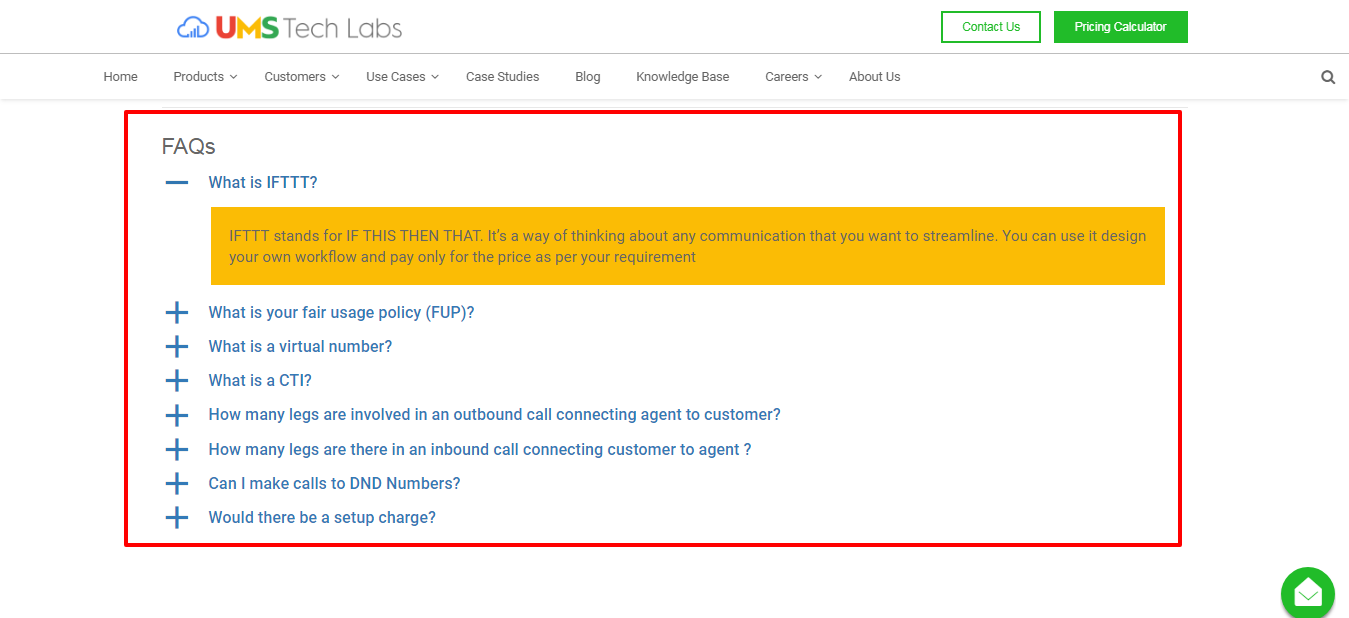 We hope this article made your flow design and purchase process breeze-like!