Aggregation of Justdial Inquiries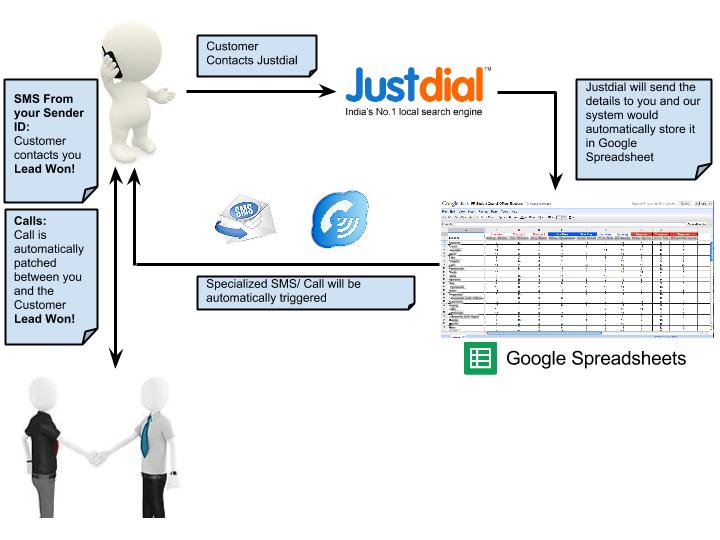 Organize Justdial Enquiries: Now, no more reading Justdial Leads from your email inbox. All Justdial Leads can be organised systematically in a simple Google Sheet all updated all in real-time as and when you get enquiries from Justdial.
Quick Conversion: Be the first one to identify and reach your potential Customers. Send them additional offers and your additional contact details instantaneously. As soon as someone looks for business related to yours, he can get an SMS/ Call from you, all automatically.
Easy Logs: All Calls and SMSs are shot without any human intervention. Call details like date, time, recording url etc and SMS are logged in a simple Google Sheet update real-time.
Analytics: The product does systematic analysis of calls and helps you to analyse productivity of agent, customer's enquiry pattern, customers response patterns etc.
Auto Allocation of Business Inquiries between Multiple Agents:Leads can be assigned to available agents either randomly or based on agent priority if agent is available to take the call.
Track your Justdial Leads: You can add comments over each of the Justdial lead (which are now as a Sheet row) such as followup date & time, leads closed , deal value and can use this as a mini-CRM, thus helping convert enquiries into customers quickly or for your business reporting purpose.
Email to Admin : After every conversation of Agent with the Customer, we provide an email to the Admin with the Call details like From number, Connected Agent Number, Duration, Price and also the Recording URL.
What does the Product do?
UMS Tech Labs' Aggregator collects enquiries information from JustDial and our system magically picks them up, performs actions like organizing them in Google Sheet or call/ SMS the enquiry.
Time to implement:
Within 1 to 2 working Days we could implement the system and you can start receiving a pool full of enquiries all organised and reach out to them easily:)
Benefits with Exotel:
By combining power of JustDial and Exotel, you can now shoot Calls, SMSs and UMS Tech Labs' product can do wonders for you.